A Multi-Style, 40-Week Workout Program for Building Real-World Technique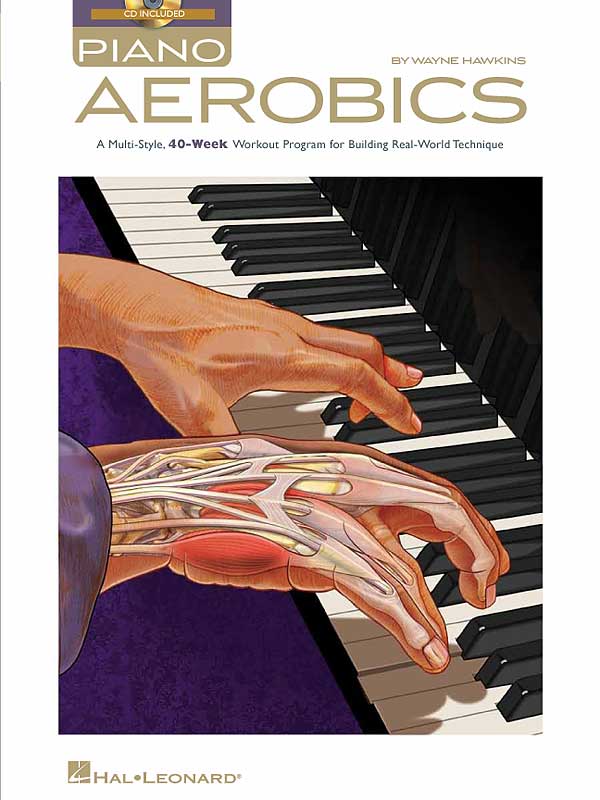 When I was asked to write Piano Aerobics, I immediately thought about what I could contribute to the wealth of material already published. I wanted to create a set of exercises that students would enjoy playing.
Often when students decide to play contemporary styles of music, they lack the "chops" for the job. Most traditional piano training has resulted in good interpretation and understanding of classical repertoire only. Piano Aerobics is a set of exercises that introduces students to many popular styles of music including Jazz, Salsa, Swing, Rock, Blues, New age, Gospel, Stride and Bossa Nova. Not only will these exercises strengthen their "chops", but they will also help them to play these styles with more musical flair. In addition, there is a CD with accompaniment tracks featuring professional musicians playing in those styles


Addendum to the book
Play-Along Tracks
Finger Strengthening
Boogie Woogie
New Age #1
Articulation
Rock
Blues
Touch
Finger Strengthening #2
Bossa Nova
Vertical Reading
(All) Thumbs
Blues And Jazz
Salsa
Gospel
New Age #2
New Age #2
New Age #2
Modern Jazz
Ear Training
Samba
Stride
Musicians
Wayne Hawkins piano and keyboards on all tracks
Luiz Orsano drums and percussion on tracks 6, 7, 9, 11, 13, 20, 21
Forest Stewart electric basses on tracks 2, 5, 6, 9, 12, 14, 19
Sam Wiseman drums on tracks 2, 5, 12, 14, 19
Anfrisio Rocha electric bass, nylon string guitar, cavaquinho on track 20
Aaron Simcox tenor sax, flute on tracks 13 and 14
Doug Talley tenor sax on tracks 10,18 and 19
Tim Brewer acoustic bass on tracks 10 and 18
Keith Kavanaugh drums on tracks 10 and 18
All Tracks were recorded in May 2011 at Healing Studios in Kansas City, Kansas. Luiz Orsano recording, mixing and mastering engineer.
Tracks produced by Wayne Hawkins
Doug Talley Quartet appears courtesy Serpentine Records
Anfrisio Rocha appears courtesy estudio Som Do Mar